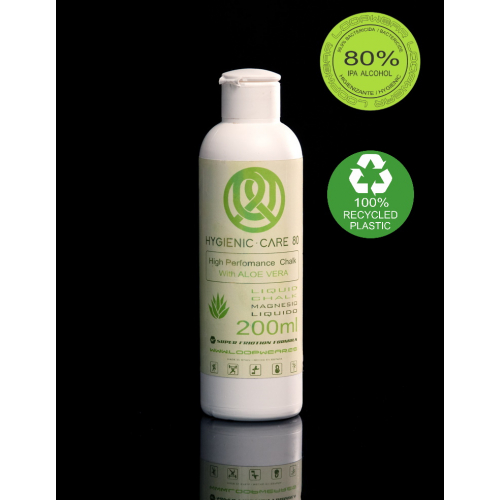 Maximize

Display all pictures
Remove this product from my favorites
Add this product to my favorites
Liquid chalk Hygienic Care 80% Aloe vera 200 ml
"Hygienic Care 80% Aloe vera ". new improved formula 80% Alcohol, Sanitizing and Bacterizide 99.9%
Quick drying for maximum absorption of sweat and friction. High adhesion once dry.
It does not generate dust, does not stain and resists many more movements without losing performance.
Climbing, Cross training, Fitness, Calisthenics
80% Alcool IPA 20% Mg CO3 with Aloe Vera
made in Spain
name: Hygienic Care 80% Aloe Vera
Composition: 80% Alcohol IPA -  20% Mg CO3 with Aloe Vera
Volume: 200 ml
Manufactured: Made in Spain by Loopwear, the only European formula with 80% Alcohol IPA.
Special for: Climbing,Cross training,Powerlifting, fitness,calisthenics,weight lifting.