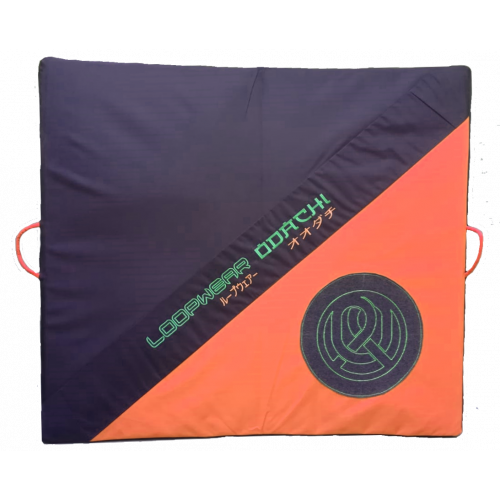 Maximize

Display all pictures
Remove this product from my favorites
Add this product to my favorites
NEW BIG " ODACHI " 2 Pad
" ODACHI " 2 Pad: Made in 1100D Nylon, with 3 special foams in 3 densities 30/30/30 kg. Full upper part foam system "Top Foam Surface" whithout interruption of the latex/memory foam in the central bending part, eliminating this way dangerous areas with no protection that can cause ankle injuries, etc.  "One Piece System" buckles at the bottom. Mat logo .limited edition.
-Measurements: 150x115x12 cm
-Closed Measurements : 75x115x24 cm.
-Weight : 6 kg .
-Foams : Inner padding  3 layers / 3 densities 
 1. 20 mm  PE foam 30 kg
 2. 80 mm PUR foam 30 kg HR (High Resilience)
 3. 20 mm PE foam 30 kg
-Manufactured: Nylon 1000D / Waterproof fabric .
-Thickness : 12 cm
-Mat cleaner: Area rug cleaning shoes climbing, logo embroidery loop
-Closure system: Aluminium Loop buckles. More lighter and resistant
-Transportation system: Special adjustable padded straps and waist closure.
-"Top Foam Surface": Full latex memory foam at the upper part. Foam 25 mm 
-"Doubleface concept ": Sistem Soft Side/Hard Side.concept allows for the choice of landing surface, depending on the height of fall or jump. Foam side  30kg soft /30 kg Hard.
-"One Piece System": Buckle system at the lower part of the pad to transform into a rigid piece.
-"Double stitching": Double stitched reinforcement in every union. Long product lifetime.
- Limited edition, handmade product.